have a look through these pictures of our Wenger StageTek system. Flexible enough to fit many different needs! Use it as a main stage, small stage, drum riser, elevate your podium speaking position above the crowd, extend an existing stage, use it for a monitor mix position, and so much more!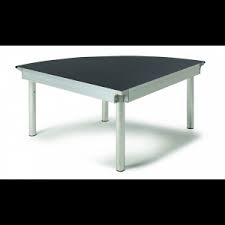 Get them with 1', 2', 3' or 6' legs, or mix and match to create a multi-tier stage system or large risers. The 4'x4' footprint makes this system as flexible as ever!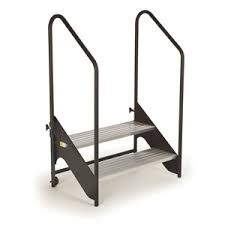 Add stairs for easy access
Stairs are a must when using platforms 2' or more above the ground to make it easy for everyone to step on and off of the platforms.
Skirting is the icing on the cake!
A furled black cloth skirt will make your stage presentable in all situations.
If you are renting our stage, please ensure that the person(s) setting up, securing and breaking down the stage pieces and steps are experienced in using the StageTek system or something similar to ensure every piece is fastened and connected properly! Improperly installed pieces or steps can shift when in use and cause injury to those standing on them!